5 Talking Points | Everton 0-1 West Brom: Blues out of luck & ideas as Baggies snatch win
A Salomon Rondon goal condemned Everton to their sixth home defeat of the season against West Brom.
The Baggies scored with their only shot on target when Jonas Olsson's goal-bound header from a corner was turned in by Rondon on the line.
Everton enjoyed more than 70% possession and had a league high 34 shots during the game but they were ultimately frustrated through a mixture of misfortune, miscues and a determined West Brom.
Ross Barkley and Tom Cleverley both hit the woodwork in the first half while Gareth Barry twice came close in the second.
Possession fails to pay out
It's been the same old story for Everton at home in the past year: plenty of possession, with little or nothing to show for it. And when Rondon chested the ball over the line in the 14th minute there was a depressing sense of familiarity about it.
While Everton had 76 minutes to respond, the air of inevitability of Everton's defeat stunk the place out and not even a 71% share of possession could change that. West Brom were camped in their own half for most of the 2nd period, barely escaping their own penalty area but anyone who has watched any of Everton's six home defeats will tell you that it is this set up that continues to un-do the Blues.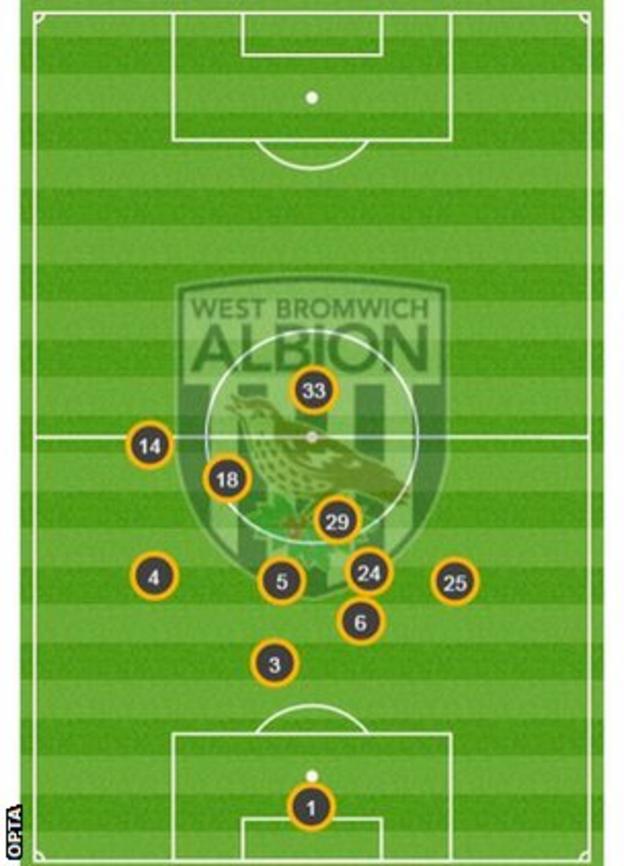 West Brom, average player positions – Graphic credit: BBC Sport/Opta
Under the last one and a half seasons under Roberto Martinez, Everton have found it hard to overcome sides "parking the bus" and defeats have become an almost accepted part of home fans' Saturday routines. The Toffees' slow and laboured passing style at Goodison has been predictable for too long and Martinez must find a way of getting results against all-too predictable and stubborn away tactics.
What happened to players on the posts?
Not one blue shirt stood on either post as Everton set up to defend a corner kick in the 14th minute. It's well known that Martinez doesn't put much faith in his players from attacking corners, but the abandonment of defending them properly is foolish, not to say insane against a side of considerable height and aerial prowess as West Brom.
Tony Pulis' Stoke City arrived in the Premier League in 2008 with a reputation for being physically imposing and they succeeded by way of putting goalkeepers and back fours under considerable aerial pressure.
So why did Everton not give themselves the added protection of a man or two to guard the posts? Is this an instruction from on high? Have they always done it?
You won't see a man on the posts when you look back on footage of Danny Ings putting Liverpool ahead at Goodison Park back in October. Nor will you see anyone man the posts as Scott Dann climbs highest for Crystal Palace in December. While it's not something I've paid particular attention to, it seems a particularly foolish tactic to employ against a Tony Pulis side.
Where was the width?
Evertonians have justifiably been able to criticise some first XI selections so far this season, but no one could complain with Saturday's announcement. The same side that thrashed Stoke City would be the same tasked with overcoming a struggling West Brom.
Aaron Lennon did all he could in the first half to try and tee up his teammates, causing problems in the first half for full back James Chester. West Brom, to their credit, did well to stop any crosses meeting their intended target.
But when the route to goal on the flanks was cut off, Everton had no choice but so try and work it inside. The only issue being the ten 6ft+ defenders standing in Barkley's way. With such congestion, the only sensible solution would be to persist down the wings, where the pace of Lennon was most likely to create an opportunity.
But it was not till the introduction of Gerard Deulofeu late in the game that Everton started to look more dangerous, feeding the Spaniard who is becoming equally adept at crossing from deep as he is using his skill and pace to get beyond the defender.
Before that Arouna Kone was brought on for Tom Cleverley and Leon Osman later introduced for James McCarthy; the former a just-about recognised striker, the other an ageing central-attacking midfielder. It only served to influence Everton's play inside, right in to West Brom's hands.
Subs leave Blues baffled again
It wouldn't be the first time Goodison reacted angrily to Martinez's substitutions, and the boos could once again be heard as the Spaniard rang the changes.
Martinez left Kevin Mirallas on the bench -someone who can offer genuine width and pace to go with it- in favour of Kone and Osman.
Everyone has their own ideas of how a substitution could be made to affect the fortunes of the team, and Martinez's opinion and right to exert that is worth exactly the same as any Evertonian.
But while most Blues could see there was a genuine need to create space in the wide areas, Martinez decision only proved to congest the central area and make it easy for West Brom to defend.
Fortune will turn for luckless Blues
Still, with all the picking apart done during the post-mortem the Blues we're somewhat down on their luck on Saturday. Barkley and Cleverley were just inches away with their shots that hit the woodwork, while Evertonians should also be miffed at a couple of penalty shouts turned down, especially the blatant shove on Lennon in the second half.
Everton dominated and despite the goal West Brom had no ambition to impose themselves in an attacking sense. Everton's play was actually very good at times and with a bit more luck, and with their 20 goal a season man in a better mood, they could have knocked the Baggies for a cricket score.